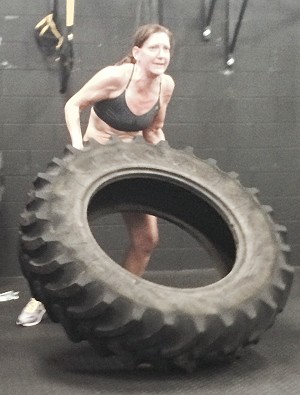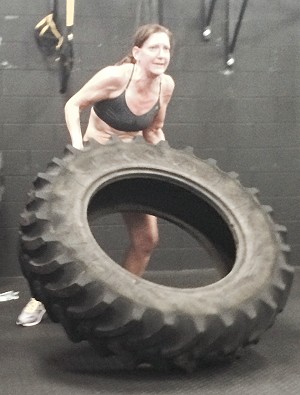 I have known Ryan since 2005, working out with him at various times in my thirties. After our youngest was about 6 months old, I decided to start going to his Saturday morning group class. What better way to start a Saturday morning, right? I worked out with him regularly every Saturday for a couple of years. I never really did anything on my own, outside of our weekly workout and every time I talked about my weight, he consistently answered that lean protein and cutting back on the frozen pizza and Dairy Queen would be a good start. I consistently chose to ignore his advice.
My thinking started to change after I turned 40. My eating habits and lack of exercise were becoming more noticeable – when did I get bingo wings??? I was at a crossroads – make the wrong decision and my weight would keep increasing, make the right decision and I might actually lose some weight…and get rid of the arm flab. I spent the summer of 2012 giving some serious thought to what it would mean to change my diet and exercise routine. I decided to make the commitment after Labor Day – the kids were back in school, the weeks and weekends would be more structured so the temptation of Dairy Queen would be greatly reduced.
Anne Knapp
I started with the 24 day challenge. I forced myself through the initial cleanse and moved on to the protein shakes. At the same time, I started exercising more frequently. I added another workout with Ryan and one on my own, I started running. After making it through the 24-day challenge, I figured I would stick with it. I made it through 24 days, what was another day after that….and after that…and after that. By the summer of 2013, I was signing up for 5k runs and improving my time with each event. I completed a sprint course triathlon and made it through my first Tough Mudder. By the time the summer was over, I had lost about 27 pounds and had some pretty sweet looking arms. I bought my first 2-piece bathing suit in 25 years.
It is now 2 years since I decided to "embrace a healthier lifestyle". I have lost 30 pounds, still have some sweet looking arms and even kept things on track through an injury. I feel great about myself and feel like I am setting a good example for my family. My husband has started running and exercising more regularly. Now, instead of running a 5k or 10k on my own, the whole family participates in the event. I am not as strict as I was in that first 24 days, instead, I have learned to moderate my indulgences. Ryan's consistent, patient approach made the difference. His group classes gave me the push I needed to get motivated and to keep setting challenging goals for myself.