We are in our second month of Fat Loss discussions. With all Fat Loss Programs, energy is a primary concern. Most of us have difficulty finding the energy to workout after our long and exhausting work days.
Does this sound like you…….
*Wake up
**Drink Coffee
***Get in car and eat something quick
****Work
*****Fast food at lunch
******Sluggish after lunch
*******Soda pop to wake up
********Do you get the picture?
For mind enhancement engergy, I recommend using this Advocare product.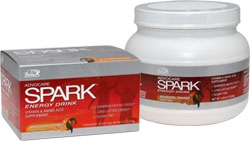 Spark will…….
Available in Mandarin Orange, Fruit Punch, Grape, Citrus and Cherry
Offered in pouches and canisters
The most nutritionally advanced energy drink on the market
Sugar-free, long-lasting energy*
Surprisingly fast-acting*
Contains 21 vitamins, minerals and nutrients designed to synergistically provide a healthy, balanced source of energy*
Just 45 calories per serving
Sharpens mental focus*
Next time you decide to get your wings off a Red Bull,
make a healthier informed choice and mix yourself a Spark Energy Drink.
To Purchase Spark click on the link on the right hand side under the links category.