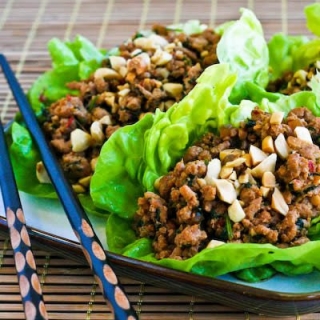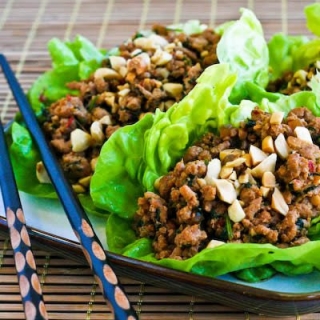 Asian Lettuce Cups with Spicy Ground Turkey Filling
(Makes 4-6 servings, )
Ingredients
1 T peanut oil or vegetable oil (or slightly more, depending on the pan you have)
3 T minced red onion or shallots
2 T minced garlic (I used minced garlic from a jar but fresh garlic would be even better)
2 T grated ginger root
1 1/2 lbs. ground turkey
4 T soy sauce (I used Tamari)
1 T Chile Garlic Sauce (or slightly more if you like spicy foods)
1 tsp. fish sauce (probably optional, although I like fish sauce!)
1 cup chopped fresh cilantro (about 1/2 large bunch)
1/3 cup chopped peanuts (optional, especially for braces wearers!)
1 large head or 2 small heads Boston Lettuce or butter lettuce, or substitute 1 head iceberg lettuce
Directions
Chop onion and set aside. Peel ginger root, then grate with the large side of a cheese grater, and chop garlic if using fresh garlic. Heat the oil in a large non-stick frying pan, add onion and saute about 2 minutes, then add garlic and ginger root and saute about one minute more.
Add ground turkey to frying pan (with a bit more oil if needed) and break apart and spread out with turner, then add soy sauce, chili garlic sauce, and fish sauce. Cook until the turkey is brown and crumbling apart, and the sauce is slightly reduced, about 5 minutes.
While turkey cooks, wash and chop fresh cilantro to make 1 cup. Remove the core end from lettuce, separate leaves, and wash in salad spinner and spin dry (or wash under running water and dry with paper towels.) Chop peanuts and put in small bowl to serve at the table.
When turkey is done, add chopped cilantro and cook 1-2 minutes more. Serve filling and lettuce leaves in separate bowls, with chopped peanuts in another small bowl. Each person takes a lettuce leaf, fills with desired amount of turkey mixture, adds chopped peanuts, and then eats the mixture from the lettuce cup. I fold the lettuce cup over when I eat it, so it's kind of taco-shaped, but some people like to wrap the lettuce clear around the filling.