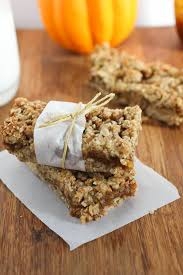 This is one of my favorite fall-time snacks. These pumpkin pie bites are delicious, healthy and a hit at any Holiday party.
Ingredients:
2 cups old fashioned rolled oats
1 cup slivered almonds
1/4 cup quinoa
1 teaspoon pumpkin pie spice
1/2 teaspoon kosher salt
1/2 cup brown sugar
1 apple, diced(not peeled)
1 very ripe banana, mashed
1 cup pumpkin puree
1 cup dark chocolate chips
Directions:
1. Pre-heat oven to 325 Degree F. Spray an 8-inch by 8-inch baking pan with non-stick cooking spray.
2. In a large bowl combine the oats, quinoa, almonds, chocolate chips, pumpkin pie spice and salt.
3. In a small bowl fold together the sugar, apple, banana, and pumpkin puree until combined and smooth. Add pumpkin mixture to oat mixture and stir until all the oats are coated.
4. Place oat mixture into the prepared pan and spread to be flat and even.
5. Bake for 30 to 35 minutes until golden brown. Let the bars cool, and cut into desired size. Makes 10 snack sized bars.
Enjoy!