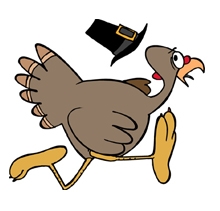 Join us on Thanksgiving Day for a "Guilt Free Turkey Day" Workout!
When: 7am, Thanksgiving Day
Where: Renegade Personal Training and Fitness
What: Guilt Free Turkey Day Workout
Who: Class is limited to 15 people.
*Class is $20/person
**Email us at info@renegade-fitness.net or call 651-402-8847 to register!
***Team training with Ryan Branson, John Sullivan and Mike Niemczyk
Start your Turkey Day off with a beat-down!