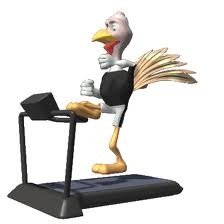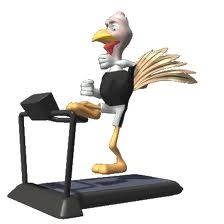 Happy Thanksgiving!
It's that time of year again, a time when we look back over the previous year and think about all the things we should be thankful for. It's a time to remind ourselves to see that our glass is not half empty but really half full. Here are just a few things I am thankful for this time of year.
As always, I am thankful for all of you-our amazing clients that teach me so much more than exercise technique, health and fitness tips and coaching. Thank you for never making me feel like I have to "go to work".
I am thankful for the training staff that believed enough in themselves and in me to come on board at Renegade. They took a huge risk by going independent to excel in something they have true passion for. Without them, none of what we do could be possible. Thank you for making enjoyable day a pleasure.
I am thankful for my loving wife, who without her support, I wouldn't be where I am today. Her support has helped overcome the day-to-day challenges, struggles and obstacles of life and owning a business. Thank you for helping make my dreams come true!
Finally, my family. When I think of family, one word comes to mind…."unconditional". Up until recent years, I put them through turmoil and without their unconditional love and support, I would have never met any of you, my wife or had a successful business. Thanks to them, I look forward to the endless possibilities of the future.
Now, onto business! Below is a laundry list of quick dietary tips and food substitutions to help you keep the pounds off this holiday season. Before you roll your eyes and snub these helpful tips, know this: The average American consumes 3,000-5,000 calories from a single Thanksgiving meal!
TIPS:
Eat early in the afternoon. Fill up on good calories and smaller portions of heavier foods.

Consume more white turkey. One serving of white turkey has only 175 calories, while dark turkey has 250 calories per serving.

Eat something healthy before going to holiday parties. This will help ease your cravings and hunger before dipping into the cheese and crackers.

To ensure healthier options, bring your own variety of veggies and dip to share.

Go for the bubbly = 85 calories for a glass of champagne@

Stick with pumpkin pie. PP has only 260 calories per slice vs. pecan pie has about 700 cal. per slice. Skip the crust and you'll save about 150 cal.

Substitute sweet potatoes for mash potatoes.

Rather than glazing them with a heavy load of butter and sugar, try creating a sauce with trans-free margarine, a few teaspoons of sugar substitute and some lemon juice. You'll have the same great taste and less than half the calories.

Make your own cranberry sauce from scratch rather than purchasing a can from the store.

Get some raisins, fresh cranberries, 100% OJ, an apple, walnuts and water, mash it together and season with cinnamon. Heat on stovetop on medium-low heat for about 10 minutes then cool it over night. BAM-you have cranberry sauce!

Instead of Pumpkin Pie, google search a pumpkin custard recipe.

Most pumpkin custard recipes only have about 50 calories per serving vs the 260 calorie avg of pumpkin pie.
Well, I hope this blog finds you well and eating healthy this Holiday season! Happy Holidays!